The power of one
A single software for employee management of HR and payroll data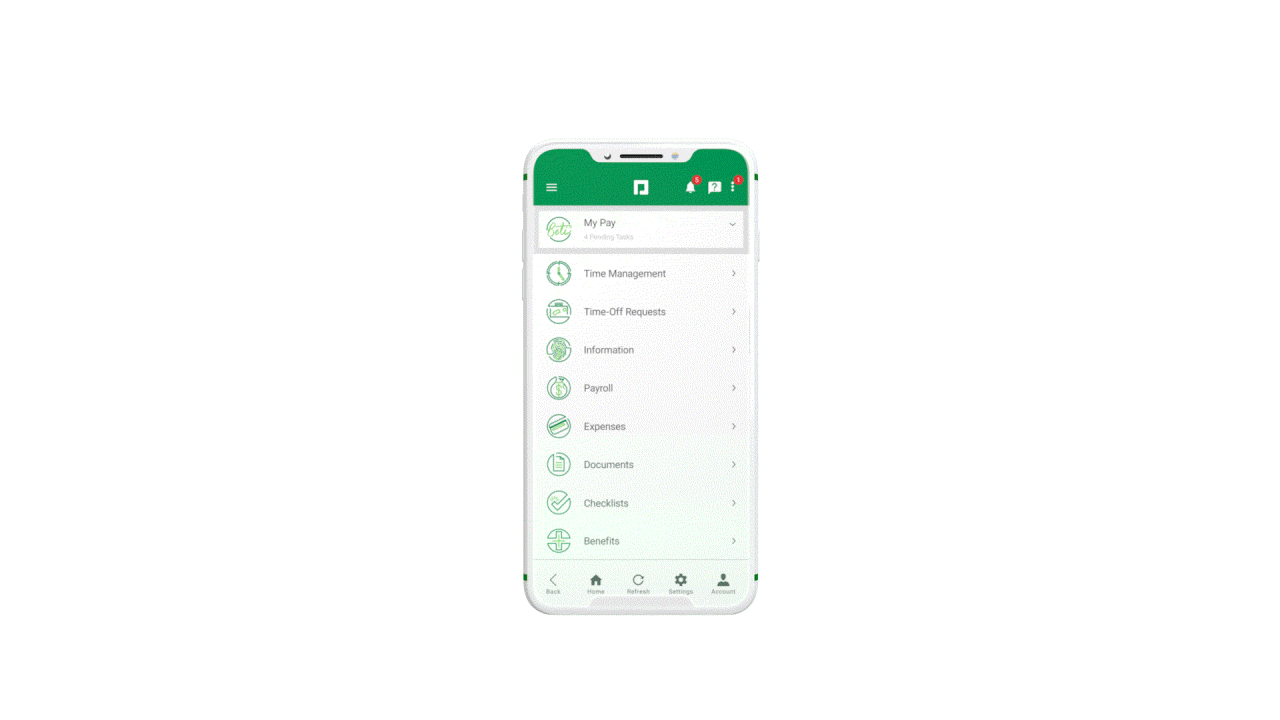 WHAT THE POWER OF ONE MEANS
One app
Instead of being scattered across multiple systems, our HR and payroll tools live in one software. Whether on a desktop computer or mobile device, Paycom is accessible 24/7 from anywhere in the world with an internet connection.
One login and password
Because our tools live in one software — and are built at Paycom, by Paycom — you no longer have to deal with jumping between multiple programs, each of which requires its own access information.
One architecture
Proper planning leads to strong performance. Other providers may acquire or partner with third-party software for a patched-together experience, which can result in duplicate tasks, inaccurate data and inconsistent reporting.
When employees manage their own data, HR moves from transactional to transformational
HR is a specialty profession. And data reentry and information gatekeeping are not specialties — they're outdated processes. With Paycom, HR is no longer stuck in the middle of these tedious transactions, opening a whole new world of efficiency and engagement.
With a true single database, employees enter information once. And only once. Because once it's entered in one place, it populates seamlessly systemwide.
With all your HR and payroll needs in a single, easy-to-use software, all employee data is managed in one place for greater convenience and efficiency.
No one knows an employee's personal data better than the employee. When they're empowered to enter and manage it themselves, they ensure it's accurate.
Our single software employs industry-proven, formally audited and ISO- and SOC-certified security standards. We take every precaution to protect and secure your data.
Because employees enter and manage their own information, HR is freed to focus their specialties toward more strategic, impactful causes for the organization.
Our HR and payroll software works better because everything works together
With just one login and one password, employees enter and manage their own HR and payroll data in a single, easy-to-use software. All information entered flows seamlessly from one section to the next, so nobody has to re-key a thing.
A SOFTWARE COMPANY YOU CAN TRUST
Nearly 34,000 companies rely on Paycom daily
"Paycom has really allowed us to give the keys back to the employees. And I think that's really been a shift in responsibility, but also in engagement."
senior vice president of human resources
professional sports franchise
"Instead of having 15 different systems, it's better to have one that incorporates everything, so that's why we went with Paycom."
corporate safety director
construction service provider
"It takes the work off you. It streamlines the process. There's not a lot of no-brainers in our daily lives, but I think [Paycom] is a no-brainer."
president
food manufacturing company
Award-winning HR and payroll innovation
Fast Company's World's Most Innovative Companies
(2022)
Top HR Product
(2019, 2020, 2021)
Forbes America's Best Midsize Employers
(2022)
FrontRunners Top HR Software Award
(2020, 2021)
Newsweek America's Most Trusted Companies
2022
Explore these resources for greater insight
For all your HR and payroll needs in a single software, request a meeting
For all your HR and payroll needs in a single software, request a meeting