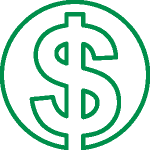 Deliver flawless payrolls with Payroll tools
At Paycom, we help ensure payrolls are processed quickly and perfectly, so that your efforts to attract, hire, engage and retain great employees are never blemished by errors.
By automating your processes with Paycom's single software, you eliminate the frustration of manually entering data and integrating multiple systems. Because Paycom empowers businesses with one system of record for employees, any information affecting payroll is entered once, with changes taking effect systemwide.