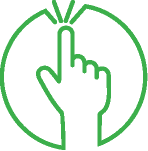 Track and manage labor needs with Time and Labor Management tools
Your employees are your greatest asset and your greatest expense. As labor costs rise and your workforce grows, it's more important than ever that your time-and-attendance processes improve your workforce effectiveness and service to employees.
As a business that helps companies like yours leverage time-tracking tools to manage labor costs and engage employees, we've witnessed the dramatic improvements our clients experience when they operate within a single system for payroll and time and attendance.